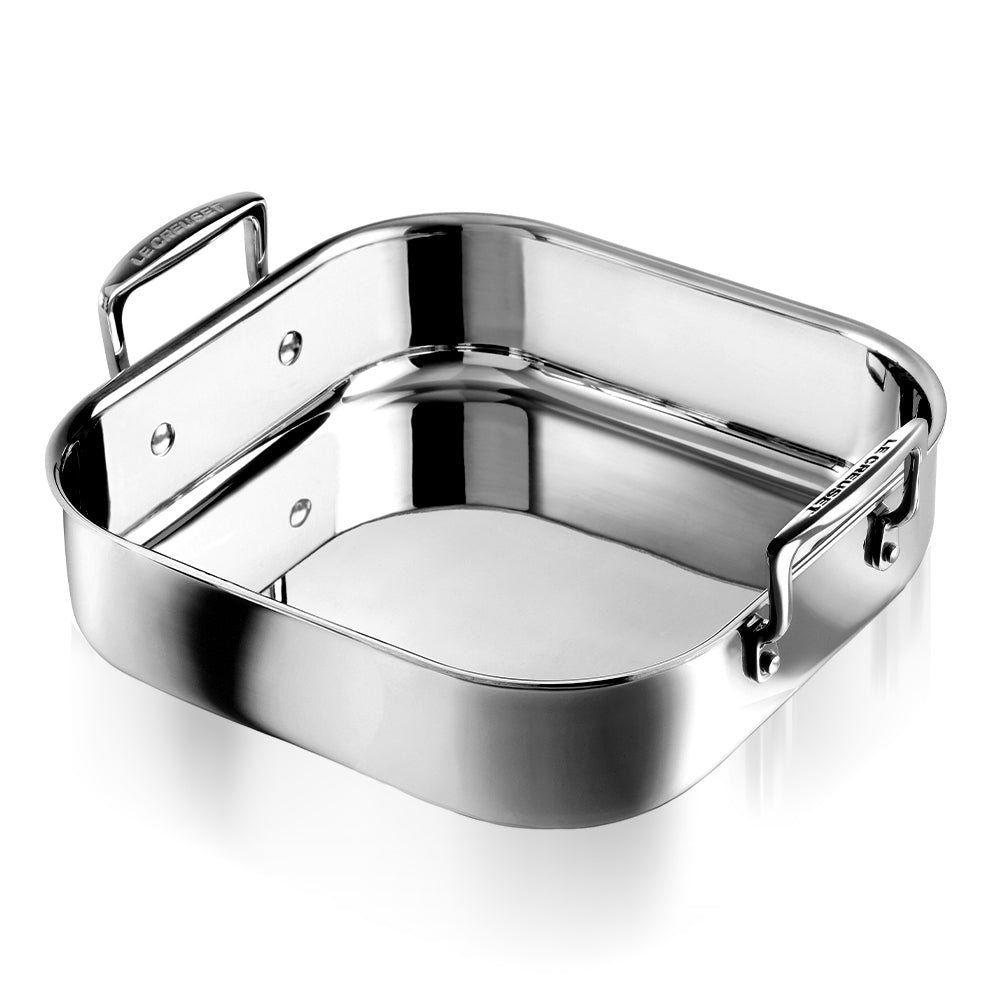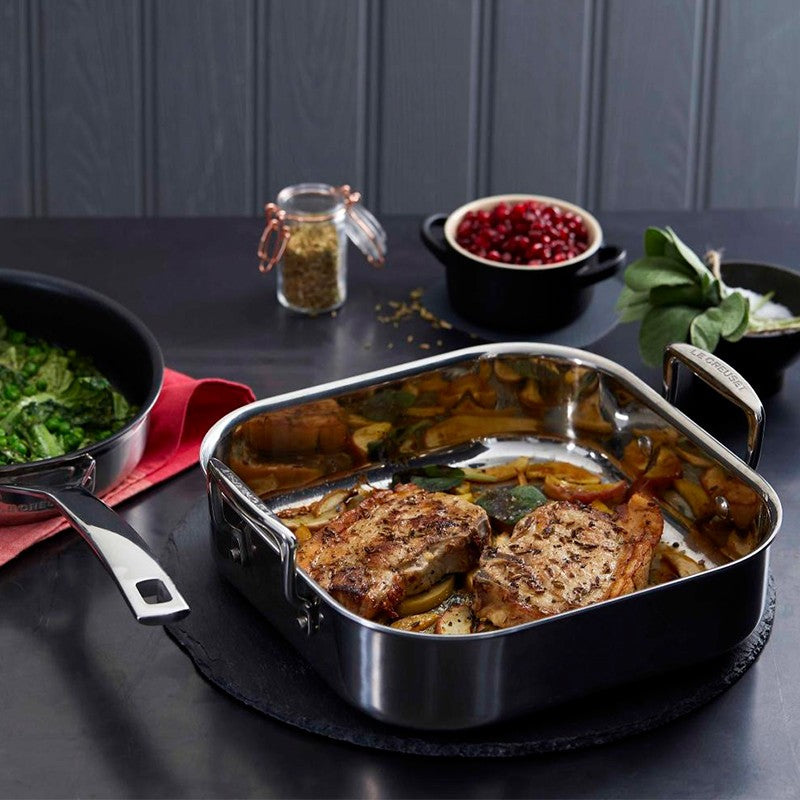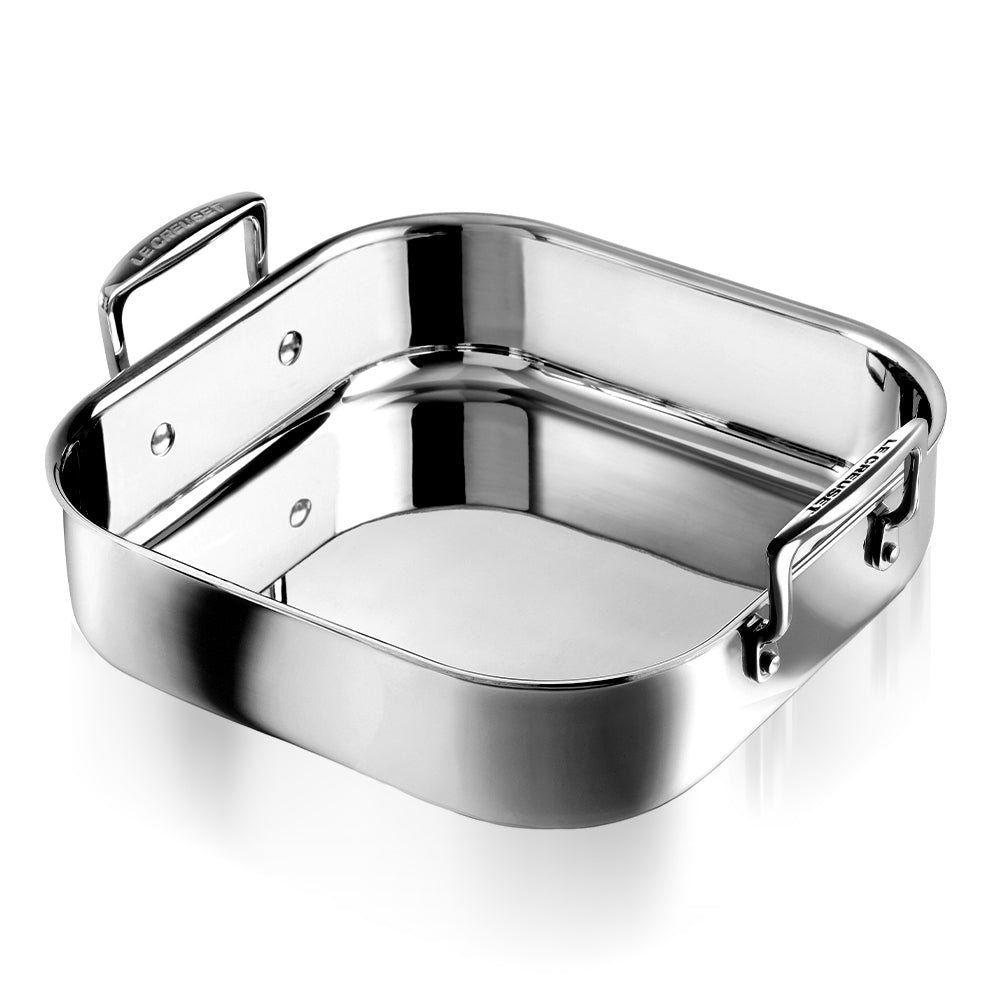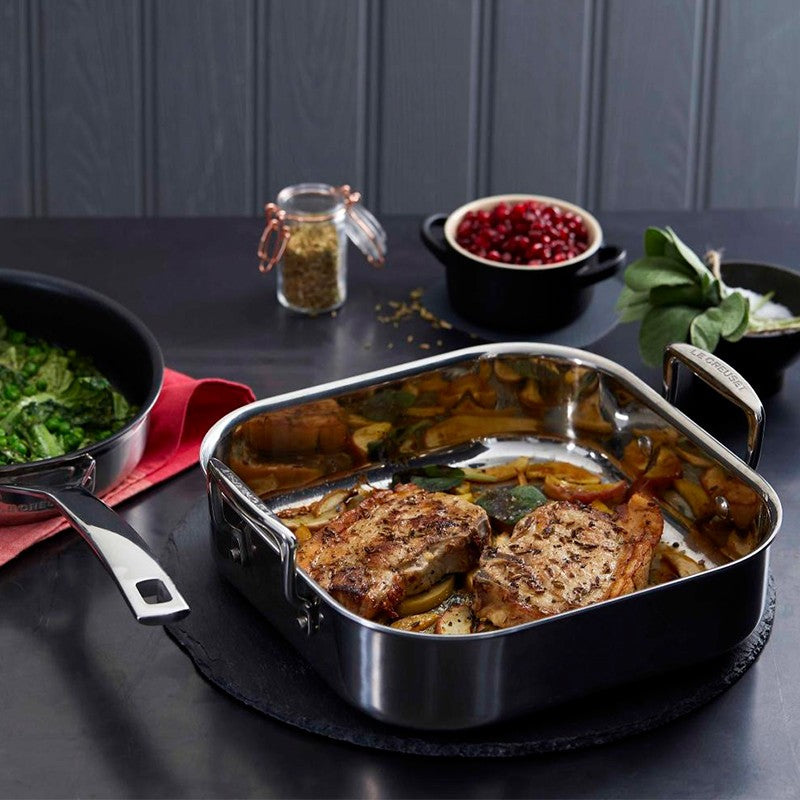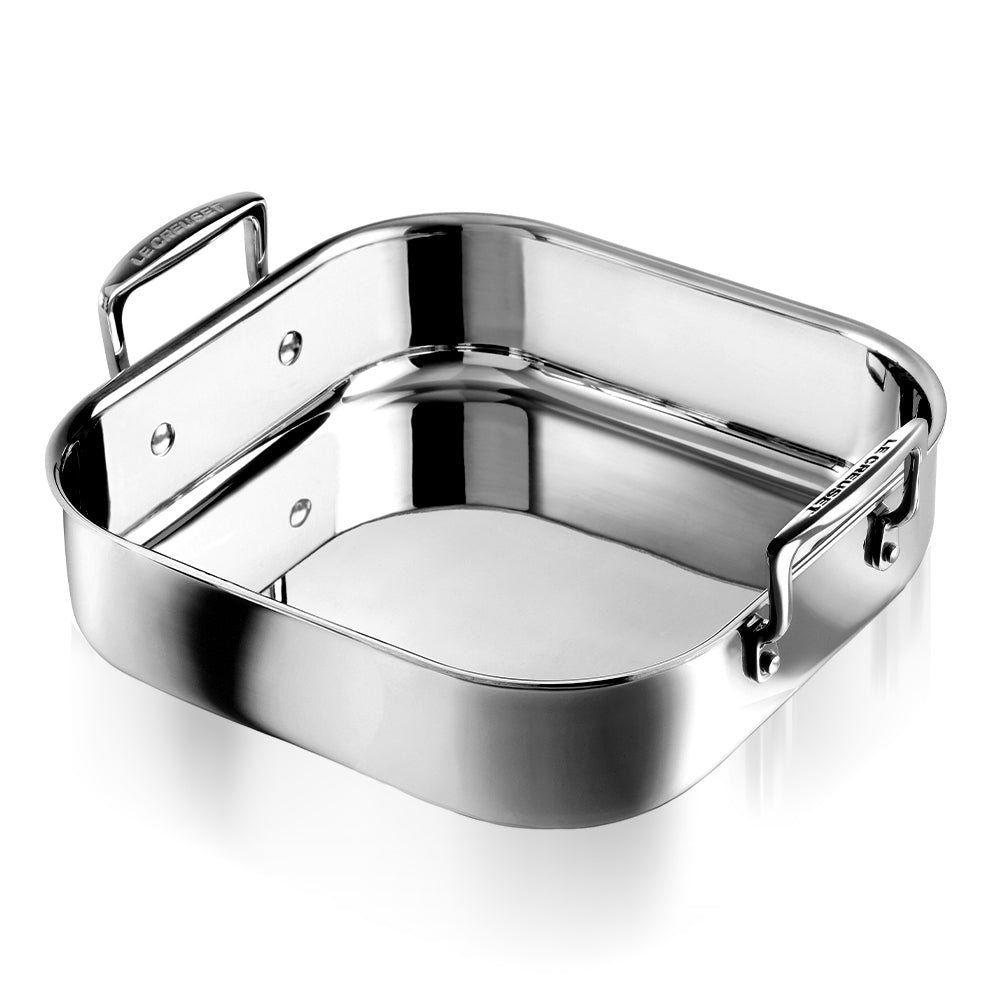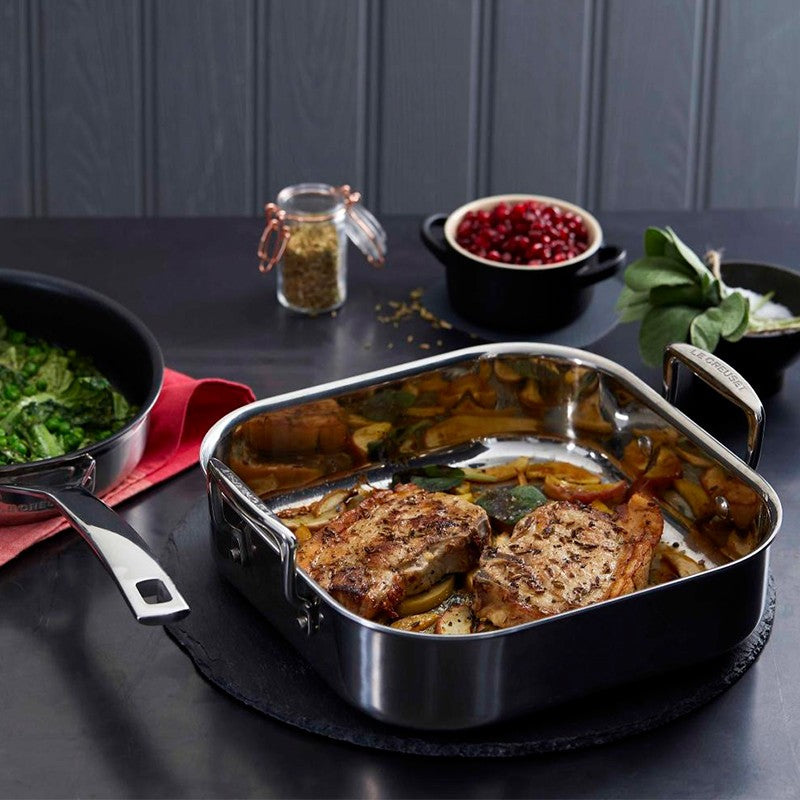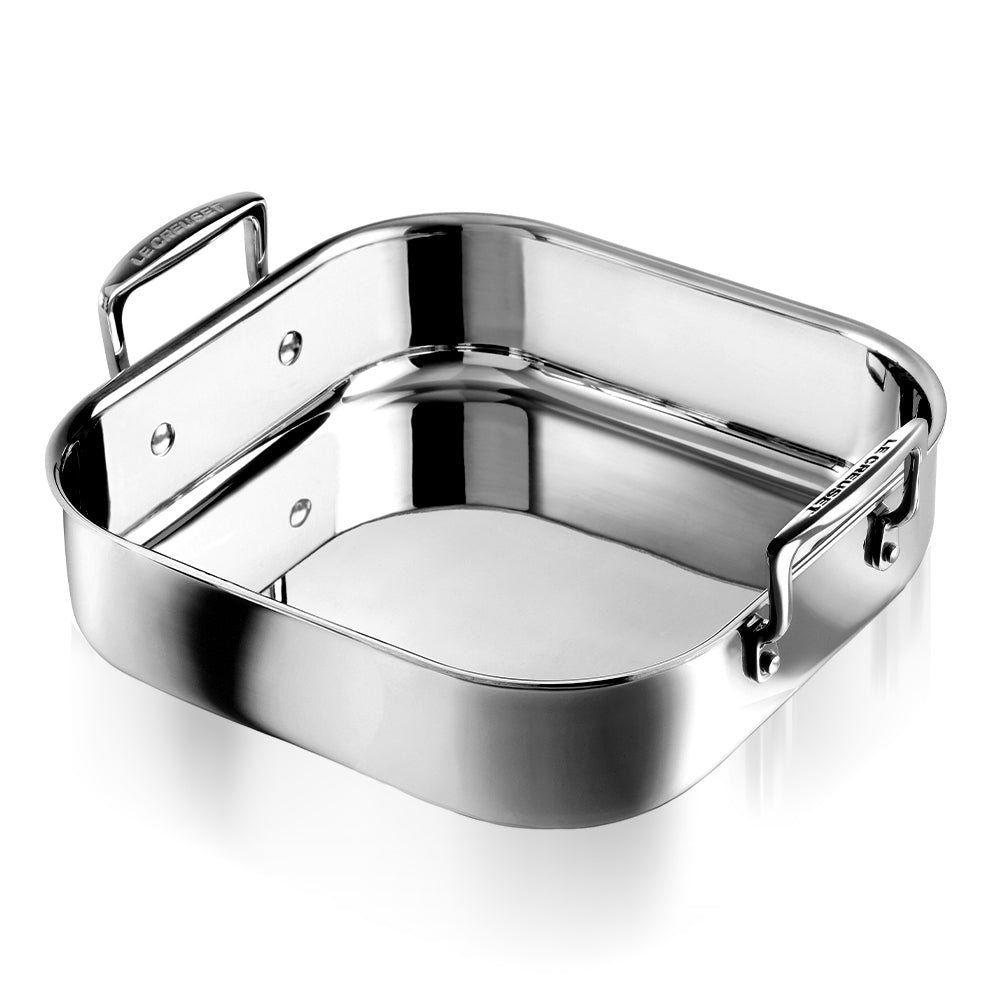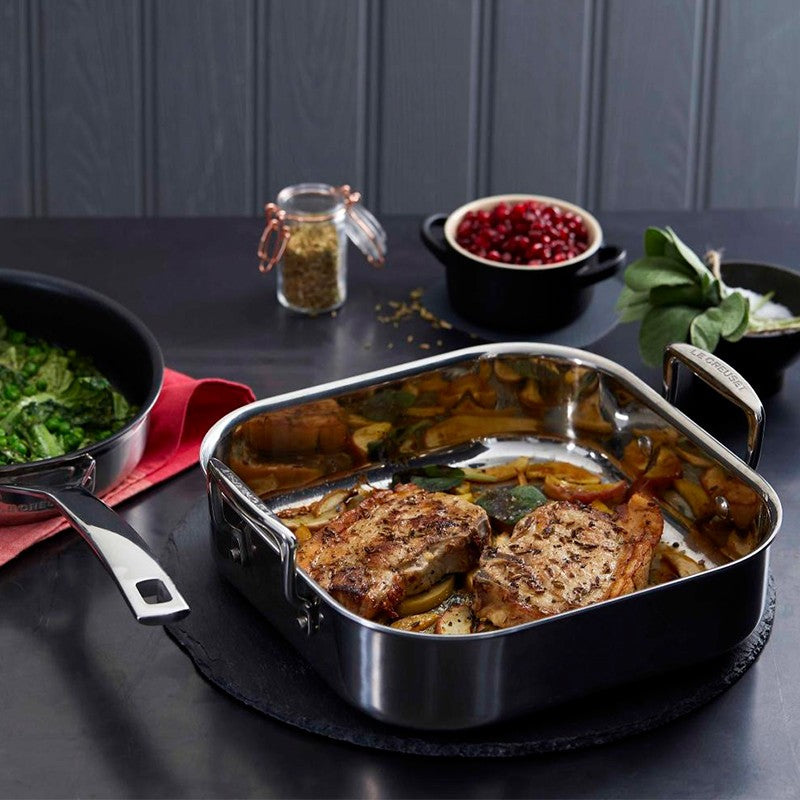 Triply Square Roaster
Roast a joint of meat to perfection for Sunday lunch or create a tasty pasta bake for a mid-week supper. This 3-ply Stainless Steel square roaster is versatile, practical and ideal for everyday cooking. Also great for sweet and savoury traybakes and delicious oven-baked desserts too. The possibilities are endless!
The Le Creuset Stainless Steel range is made of a high-quality, multi-layered material. An aluminium core is sandwiched between two layers of 18/10 stainless steel ensuring that the excellent heat conducting properties are guaranteed from the base to the lip. As a result, heat is distributed evenly (so there are no hotspots) allows for gentle cooking with little water and fat.

Ergonomic handles made of solid 18/10 stainless steel are attached so as to maximise heat transfer and are oven proof. The entire rim of the roasting pan has a cleverly designed lip that lets you pour from any angle without messy drips.
This 3-ply Roasting Pan is suitable for all types of hobs, is easy to clean, is dishwasher safe and comes with a 30-year guarantee.The Le Creuset 3-ply Stainless Steel range is made using the latest multi-layering technology where stainless steel and aluminium are bonded together to form the special 3-ply material. A core of aluminium is sandwiched between two layers of premium grade stainless steel cleverly combining the cooking benefits of both materials. The aluminium stretches from base to rim, meaning heat spreads evenly and gently throughout the entire pan – not just the base.

Professional-style cast handles are attached with stainless steel rivets for a superior, secure fixing and the addition of helper handles on selected sizes makes lifting easier.

Each Le Creuset 3-ply Stainless Steel product comes with a lifetime guarantee.
---
Features:
Precision-pour rim allows for clean, convenient pouring directly from the pan
Tri-ply construction with a full aluminum core provides even, all-around heat distribution, eliminating hot-spots and scorching
Hollow, stay-cool cast stainless steel handles minimize heat transfer and fit comfortably in hand
Stainless steel rivets provide extra durability
Brushed steel exterior resists fingerprints
Capacities etched clearly on the base for quick reference
Dishwasher-safe for easy cleaning
Magnetized base is compatible with all cooking surfaces — including induction