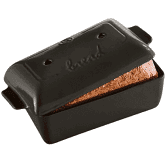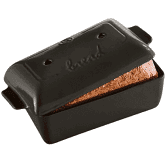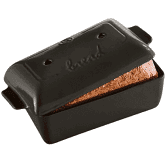 Bread Loaf Baker
The pleasure of kneading, shaping and baking your bread has never been more popular. Our Artisan Bread Baker allows you to bake all kinds of generous home-made bread loaves (up to 2kg)––just like those hand-crafted by artisan!
Simply use white flour to bake a classic sourdough bread, or mix flour types (spelled, rye, chestnut…) to bake rustic, authentic loaves; explore different textures and flavours.
Made from our innovative ceramic, the Artisan Bread Baker helps create baking conditions identical to a traditional bread oven. It ensures your bread has the required level of humidity while baking to get a perfect, golden, crispy crust with a light and airy inside. It's that simple.
Indeed, the toughest part of it all is to resist the urge to eat all of your warm loaf when taking it out of the oven!
The crisscrossed ridges in the base help prevent the dough from sticking, and the openings on both ends of the lid make it easy to manipulate. Lastly, placed upside down, the lid fits inside the base for compact storage, unless you prefer to display your beautiful baker in your kitchen at all time...